Good morning, this is Eleanor Ainge Roy bringing you the main stories and must-reads on Friday, 6 April.
Top stories
AGL Energy has rejected arguments from the government that it is abusing its market power, saying it would have closed the Liddell power plant in New South Wales with no warning if it had wanted to benefit commercially. An AGL spokesman hit back at an accusation from the former deputy prime minister Barnaby Joyce that it was "shorting" the market by hanging on to the ageing coal-fired power plant. "It is not possible to short a market by giving seven years' notice of closure," the spokesman said. "If AGL's intent was to benefit from the closure of Liddell, AGL would have provided no notice of closure."
The government has been attempting to ratchet up pressure on AGL for months to extend the life of the power station until an expansion of the Snowy Hydro scheme is completed, but AGL has its own plans for the site. The company wants to shut down the plant in 2022 and replace it with renewables, batteries, gas power, upgraded coal power and demand response.
Donald Trump's former campaign manager Paul Manafort authorised a secret media operation on behalf of Ukraine's former president featuring "black ops", "placed" articles in the Wall Street Journal and US websites and anonymous briefings against Hillary Clinton, documents seen by the Guardian have revealed. The project was designed to boost the reputation of Ukraine's then leader, Viktor Yanukovych, and was part of a multimillion-dollar lobbying effort carried out by Manafort. Manafort's Ukraine strategy anticipated later efforts by the Kremlin and its troll factory to use Twitter and Facebook to discredit Clinton and to help Trump win the 2016 US election.
Forced to endure the excruciating pain of endometriosis, South Australian police constable Sarah Berry then had to contend with what she claims was "bullying" by senior officers. One continually questioned her about her condition – even when she was sobbing uncontrollably – and told her she was a burden who "frustrated the fuck out of him". Now the outcome of her federal court case against the force appears likely to set a significant precedent for women struggling with endometriosis in the workplace.
Thirty-two days after she and her father collapsed in a nerve agent attack, Yulia Skripal has sent out a defiant message that she is getting stronger every day. Skripal, 33, thanked the British people and medical staff, but said her experience had "disoriented" her. The statement was released via the Metropolitan police, suggesting Skripal is cooperating with counter-terrorism officers. If so, it will be a blow to Moscow, which is seeking consular access to the Skripals as it tries to defend itself against the UK government's accusation that it was behind the 4 March attack.
New boundaries set to be released by the Australian Electoral Commission on Friday are expected to deliver two new seats to the Labor party at the next federal election – and trigger a fresh round of factional jostling in Melbourne. The AEC is expected to publish redistributions creating a new inner-city seat in Canberra and a new electorate in the western or north-western suburbs of Melbourne, both considered Labor strongholds – although the Greens will also have their eye on the new Canberra seat. But the picture could be more mixed for Labor if the boundary changes alter the balance in surrounding Victorian electorates.
Sport
Australia enjoyed a successful opening day at Commonwealth Games, securing five gold medals, and a world record in the women's 4x100m swim relay. Mack Horton claimed the host nation's first gold in 400m freestyle, and three more were added in the velodrome.
Rugby Australia has ordered Wallabies full-back Israel Folau to explain a social media post claiming gay people will go to hell. Folau publicly opposed Australia's decision to legalise same-sex marriage last year. Rugby Australia has quickly dissociated itself from Folau's views.
Thinking time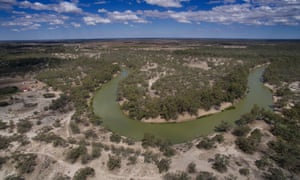 The Murray-Darling basin plan is far from perfect, writes Dr Jamie Pittock, a member of the Wentworth Group of Concerned Scientists, but it is not without hope. The plan was designed to recover 3,200bn litres of water a year for the ailing river system. That is not sufficient to restore all the elements that Australians value, such as the Coorong wetland, nor does it address the looming threats from climate change to water availability and use. But, Pittock says, it can work – if it is implemented in full.
Cynthia Banham's relationship with the supermarket has fluctuated throughout her life, but the aisles of treasures have retained her fascination. "The supermarket as an organic entity that changes for the hour of the day and the customers who enter its doors: a trove of childish delights, later cool and detached, later still a place to find conversation when opportunities for human interaction become scarce," she writes. "At each stage, I've tended to view the place, the other shoppers, through the lens my mind wanted me to see them through at that particular time."
Humans continue to produce new neurons in a part of their brain involved in learning, memory and emotion throughout adulthood, scientists have revealed, countering previous theories that production stopped after adolescence. Many new neurons are produced in the hippocampus in babies, but it has been a matter of hot debate whether this continues into adulthood – and if so, whether this rate drops with age as seen in mice and nonhuman primates. The findings could help in developing treatments for neurological conditions such as dementia and psychiatric problems, and offer a profound rethink on the nature of the ageing mind.
What's he done now?
Donald Trump has started offering rewrites of headlines to the Washington Post. Trump tweeted overnight: "The Fake News Washington Post, Amazon's 'chief lobbyist,' has another (of many) phony headlines, 'Trump Defiant As China Adds Trade Penalties.' WRONG! Should read, 'Trump Defiant as U.S. Adds Trade Penalties, Will End Barriers And Massive I.P. Theft.' Typically bad reporting!"
Media roundup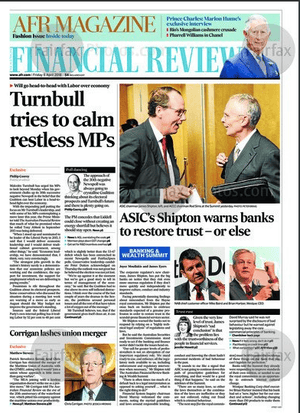 The Booker-prize winning author Richard Flanagan has spoken out against a proposed cable car on Mount Wellington, the Hobart Mercury reports. "The cable car cuts against the whole meaning of the mountain to countless generations of Tasmanians, beginning with the Palawa people," Flanagan said. The Australian Financial Review reports that Malcolm Turnbull is frantically trying to calm his "restless MPs", as his 30th successive negative Newspoll looms. And the ABC reports that two species of caterpillar have mated to create a "militant mega-pest", capable of destroying billions of dollars of crop in the fibre and food industries.
Coming up
The chief executive of AGL, Andy Vesey, is among speakers discussing energy policy, including the Finkel review, emissions reduction targets and the national energy guarantee at a forum in Sydney.
On the second competition day of the Commonwealth Games, 17 medal events will be held across four sports: track cycling, women's artistic gymnastics, weightlifting and swimming.
Supporting the Guardian
We'd like to acknowledge our generous supporters who enable us to keep reporting on the critical stories. If you value what we do and would like to help, please make a contribution or become a supporter today. Thank you.
Sign up
If you would like to receive the Guardian Australia morning mail to your email inbox every weekday, sign up here.