Federal Judge Upholds Massachusetts's Assault-Weapons Ban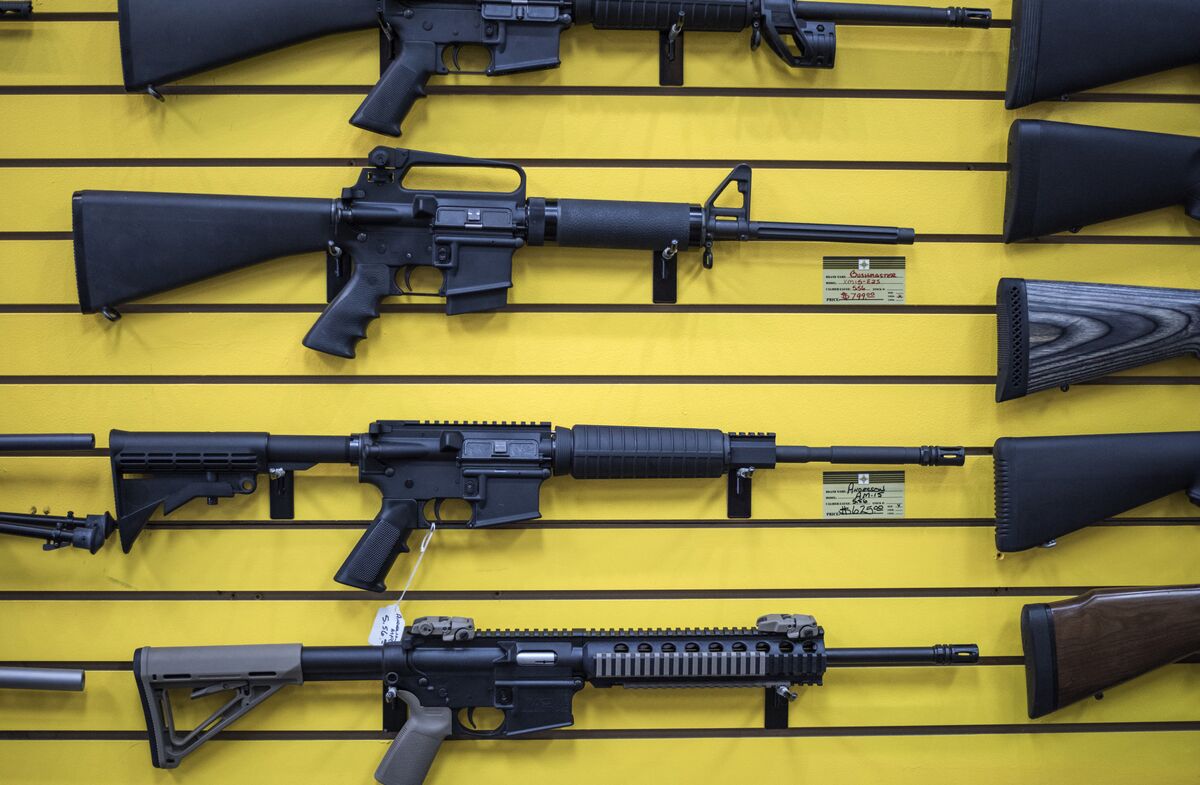 Massachusetts' beefed-up ban on assault weapons doesn't violate the Second Amendment of the Constitution, a U.S. judge ruled, handing a victory to gun-control advocates seeking to pass such a law nationwide following a spate of deadly mass shootings.
"The AR-15 and its analogs, along with large capacity magazines, are simply not weapons within the original meaning of the individual constitutional rights to 'bear arms,'" U.S. District Judge William Young wrote in a decision Thursday in Boston, dismissing a lawsuit over the state law.
Massachusetts Attorney General Maura Healey was sued by a gun-rights group in response to her July 2016 enforcement notice that broadened the definition of "copies or duplicates" of AR-15 and AK-47 models that are prohibited under the state's 1998 assault-weapon bans.
"These are weapons of war that belong on the battlefield, and we were pleased today to see yet another court agree with that stance," Kris Brown, co-president of the Brady Campaign to Prevent Gun Violence, said in a statement.
Gun litigation has taken on a new urgency following the Feb. 14

shooting at a high school in Parkland, Florida, where 17 people were left dead. Survivors mobilized on social media and successfully pushed for a new gun-control law in Florida, which triggered a lawsuit by the National Rifle Association. The law raised the age to purchase a gun to 21 from 18. The U.S. Supreme Court in November

left intact a ruling that upheld Maryland's ban on assault weapons.


How One Man Got Rich Buying and Selling Machine Guns in America
Healey's review was in response to the June 2016 shooting at the Pulse nightclub in Orlando, Florida, where 49 people were killed by a gunman brandishing a semi-automatic rifle and a semi-automatic pistol. Healey said the decision vindicates the right of people to protect themselves.
"Strong gun laws save lives, and we will not be intimidated by the gun lobby in our efforts to end the sale of assault weapons and protect our communities and schools," Healey said in a statement. "Families across the country should take heart in this victory."
James Campbell, the lawyer for plaintiffs including the Gun Owners' Action League Inc., didn't immediately return a call for comment on the ruling. The NRA's press office didn't immediately return a call for comment.
The term "assault weapons" is non-technical and "entirely fabricated" to politicize the most popular types of guns in the U.S., according to the gun owners' complaint.
"Healey unilaterally decreed that thousands of Massachusetts residents are suddenly criminals simply for having exercised their Second Amendment rights," the plaintiffs said.
Scalia Ruling
Young, nominated by former President Ronald Reagan, backed his decision by quoting the late conservative Supreme Court Justice Antonin Scalia, who wrote the majority opinion in a landmark 2008 decision that overturned Washington's ban on hand guns. The ruling expanded individual gun rights but said the right isn't unlimited.
"Weapons that are most useful in military service — M-16 rifles and the like" aren't protected by the Second Amendment and "may be banned," Young quoted Scalia as saying.
Young also rejected attempts by the gun-rights group to challenge the ban on the grounds that AR-15s are extremely popular in the U.S.
"The AR-15's present day popularity is not constitutionally material," Young said. "This is because the words of our Constitution are not mutable. They mean the same today as they did 227 years ago when the Second Amendment was adopted."
The case is Worman v. Baker, 1:17-cv-10107, U.S. District Court District of Massachusetts (Boston).